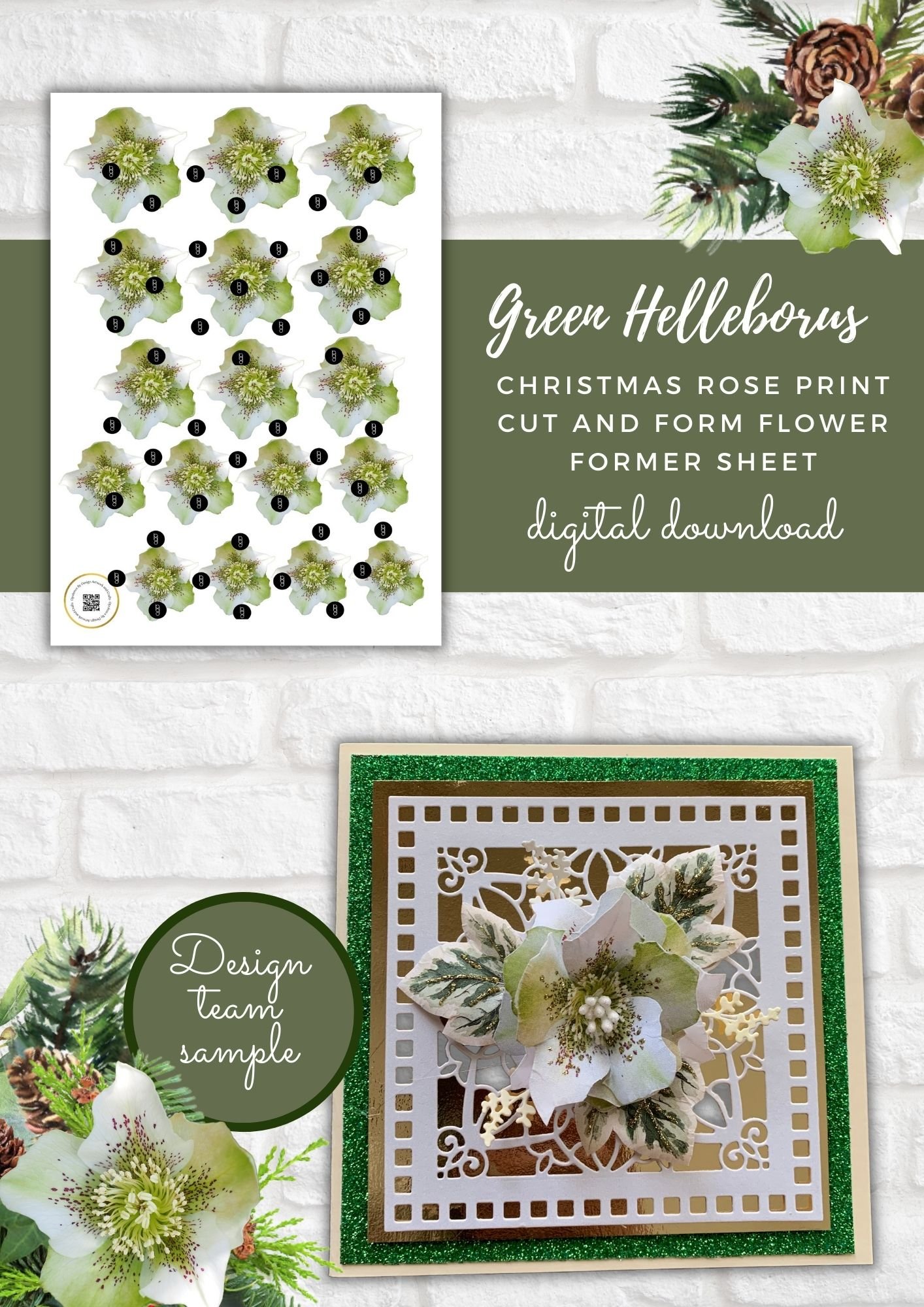 Green Helleborus Christmas Rose Print, Cut and Form Flowers PDF Digital Download
On Sale
This listing is for a digital file - no physical product will be sent.Collection Name -
Print, Cut and Form flowers 
1 x Green Christmas Rose Helleborus Print, Cut and Form flowers sheet. These Christmas Rose flowers have been designed to layer up and use to embellish your Christmas cards and craft projects
Scroll to the bottom to the inspiration zone for finished samples.
Simply print, cut and craft!
If you would like to check out my little Youtube Channel for cardmaking, flowermaking and general craft videos and tutorials you can find my gallery here: 
https://www.youtube.com/c/opulencebydesign
I made a video using this sheet if you would like to see it you can watch it here: 
https://youtu.be/0SHxXBmFbkQ
How to print:
I strongly recommend using quality printing paper rather than copier paper to print your designs onto - this will give you a more professional finish. 
When printing this pdf sheet - it has been designed as a specific size A4/ Letter Size please do not allow your printer to adjust to fit (make sure the fit to size button under your image preview is un-ticked)
Make sure your printer is set to printing on the "Best Quality" option
Please save your files
- once you have download your file please save it as we are unable to send replacement files.
Returns and refund policy:
Please note due to the nature of the product (digital file) I don't accept returns. Unfortunately once payment has been made order cancellations aren't possible as the file is sent automatically.
Should you have any questions about the product
please message me before you order.
Are you new to cardmaking or paper crafts?
If you would like more crafty inspiration please join me in my little facebook community
https://www.facebook.com/groups/672573406875861
Or check out my youtube channel:
https://www.youtube.com/channel/UCxsfFYgq06Zk523Iz0GUpjw/featured
Angel Policy for my designs
The Angel Policy - by purchasing the downloads you are agreeing to the terms laid out below in our "Angel Policy" An Angel policy is the terms of use for the product in which it may be used.
Please ensure you have read the below before you purchase.
I operate a very open Angel policy. 
You can sell any handmade item that you have made using my designs - at craft fairs, shops, or on-line including such as Etsy, Facebook, Instagram or Ebay. 
There is no limit on how many you sell provided each item has been handmade by you. 
You may NOT sell the design in printed format (printed sheets) and we ask that you don't share the file with family and friends (if friends or family would like to use the designs please refer them to the website so they can download them for themselves)
You may not use elements of the sheets to create digital files to sell.
You may NOT sell the download on download sites or share for FREE - either as it is or in an altered format.
You may NOT upload the design / artwork to sites such as Zazzle or Redbubble and claim it as your own ( these companies are print on demand companies) If you are looking for custom POD product design this is a service i offer separately. Please message me for more details (you can message me through this site or you can reach out on facebook)
You may NOT use my designs as your own company logo or company branding (On your website, business cards, letter heads, social media or marketing branding)
You may use my designs with your digital cutting machines.
You may re-size my designs to fit your chosen projects
For use in Craft clubs, classes and workshops
My designs are not permitted to be used/shared for craft clubs (they have been sold to you, for you alone to craft with - for use in craft groups/clubs/ workshops please message me for more information as i do have a craft club license so my designs may be used by multiple people.
How you can help us:
Share your makes using our designs on social media and if possible let people know where you have bought the designs - we loved being tagged in too!
Share your makes in our cardmaking group on facebook to show everyone what you have made, if you are able to share in other groups and let people know where you got the design sheets that would be amazing!! 
Follow us on our social media platforms - any interaction on social media really helps us!
Take a peek at our youtube channel - if you like the videos please subscribe, like, comment and share the videos with your crafty friends.
FOR all social media links, facebook group and youtube channel you can use the link here:
https://linktr.ee/Opulencebydesign
How we can help you:
We offer youtube videos for our designs, if there is a design sheet you like but would like more inspiration then do let us know and we will create a video for you and pop it on our youtube channel. The inspiration behind our business is helping to inspire our customers to craft - by offering instant downloads and the tutorial for you to craft along with to be able to re-create what you have seen in the video.
If there is something you would like to make but you can't find it on the high street let us know the theme or occasion and we will look to create something for you. We have lots of customers who get orders for handmade cards and ask us to design sheets for them to use (there is usually no additional design fee charge for this service for generic designs)
We have a little crafty facebook group where we share ideas, projects, tips and techniques as well as discuss what designs people would like. It is much easier to chat on facebook.
We aim to bring you designs at affordable prices that you can use time and time again!
Design team samples area: